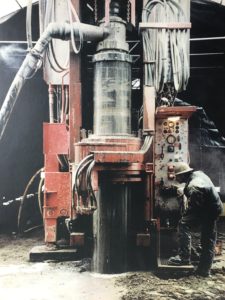 Industrial Drilling Projects
Field Drilling Contractors Ltd. has extensive experience in Industrial Drilling projects in British Columbia, including:
Dewatering Wells  6″ dia. up to 24″ dia.
Landfill Gas Extractions Wells
Mineral Exploration
Bridge Pilings
Retaining Wall Pilings
Piezometers
Inclinometers
Our crews and equipment are capable of drilling (and casing) from 6 inch up to 24 inch diameter holes for your Mining, Construction and Industrial needs.  We have successfully and punctually completed Industrial Drilling projects for Highland Valley Copper, Teck, New Gold – New Afton Mine, Wastech, Golder Associates, Kala Geosciences, Active Earth Engineering and many more.  These projects range in scope from:
6 inch dia. piezometer holes in Vancouver
Over one hundred 12 inch dia. Gas Extraction wells at the Cache Creek Landfill
Large diameter dewatering wells at Highland Valley Copper – one that completed at 16 inch dia.  1,115 feet deep
Inclinometer drilling and grouting over 1,175 feet deep for the South Fraser Perimeter Road working under FTG Constructors
Contact us today and let Field Drilling Contractors' knowledge and experience ensure your drilling project is a success.